Raindart Computing
Reliable Internet services for everyone
Free top class email service
Servers monitored 24 hours a day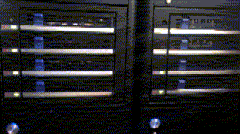 1mail.tv- Is a free email service available upon application to the postmaster@1mail.tv. You can also apply by contacting us from our contacts page.
This free sevice offers email addresses in the format your.name@1mail.tv. Other address formats are available by negotiation. Email accounts are limited to one address per person or customer.
1mail offers all the following services:-
POP3, IMAP4, SMTP, SMTP MSA and a fully featured Webmail interface. The email service provides 100mB of email storage and also offers 100mB of on line file storage space. The service can be access from any browser. It is fully compatible with mobile phone 'push' email sercices as provided by the major operators.
1mail is provided free of charge on an 'as is' basis by Raindart Computing Ltd. It is run on our own servers located in our server centres. There is a strict no spamming policy and a fair use policy is applied.
Further features and services, including extra storage, space are available by negotiation and may be charged for.
1mail Information
1mail is owned and operated by Raindart Computing Ltd. This is a free email service. Addresses are available on application to postmaster@1mail.tv

Click on the E-mail button to go to the 1mail access page. www.1mail.tv